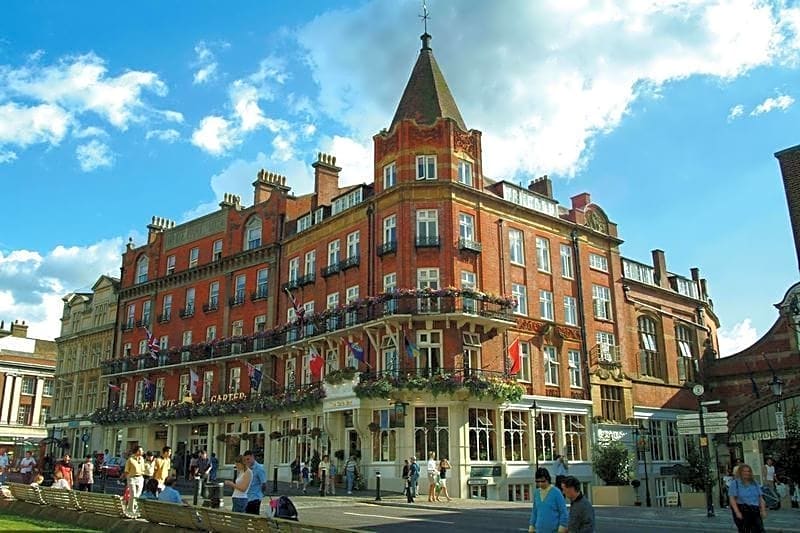 Clarion Collection Harte and Garter Hotel and Spa is comprised of two 14th century Inns and attractss guests with its traditional Victorian English décor and luxurious on-site health spa. Should guests wish to venture out of this beautiful hotel Windsor castle, locale's many shops and restaurants and the famous Thames River are but a 5-minute walk away.

A combination of modern fabrics and Victorian furniture creates an elegant and relaxing atmosphere in the large guest rooms, each of which comes well-equipped with a satellite TV, full bathroom with designer toiletries, tea/coffee making facilities and complimentary internet access.

The hotel's Tower Brasserie and Tea Room is popular with both guests and passers-by and serves a delicious selection of afternoon treats and British favourites. In the evenings, the restaurant is also bustling with those interested in enjoying some fine cuisine and carefully selected wines. Other terrific amenities available for guest use include a business center, tennis court, concierge and the Stable Spa, which offers a variety of relaxing treatments.

ゲストレビュー
自分の意見や感じたことを教えるためにはこちらをクリックしてください >>
予約する方法
Clarion Collection Harte and Garter Hotel and Spaで予約するのが簡単で安全でございます。ご希望の日付を選択します。そして、フォームを送信するために「料金を確認し」というボタンをクリックします。 客室タイプと料金はお宅の画面に戻った後で、画面の中央にある部屋の情報を読むと画面の右側にある「予約する」というボタンをクリックすることによって希望の料金を選択することができます。希望の客室タイプを選択した後で、「ご予約を完了」というフォームに転送されます。その時に「滞在の詳細」を確認して、「ゲストの詳細」という部分の空欄でご自分の詳細のことを書きます。ご自分の名前とメールアドレスが正しく入力されていることを確認してください。 すべての重要な情報を記入した後で、「ご予約を完了」というボタンをクリックしてください。ご自分のセキュリティを確保するために、私たちがクレジットカード番号を暗号化し、非使用可能な形式にエンコードする安全なコマースサーバーを使います。
地域情報
空港

London, England, UK (LHR-Heathrow)

- 6.96 mi

Farnborough, England, UK (FAB)

- 16.32 mi

London, England, UK (LCY-London City)

- 28.36 mi

London, England, United Kingdom (LTN-Luton)

- 28.77 mi

London, England, UK (BQH-Biggin Hill)

- 29.54 mi

London, England, UK (LGW-Gatwick)

- 29.93 mi

Oxford, England, UK (OXF)

- 38.28 mi

Brize Norton, England, UK (BZZ-RAF Brize Norton)

- 45.54 mi

London, England, UK (STN-Stansted)

- 46.41 mi

ミュージアム